​​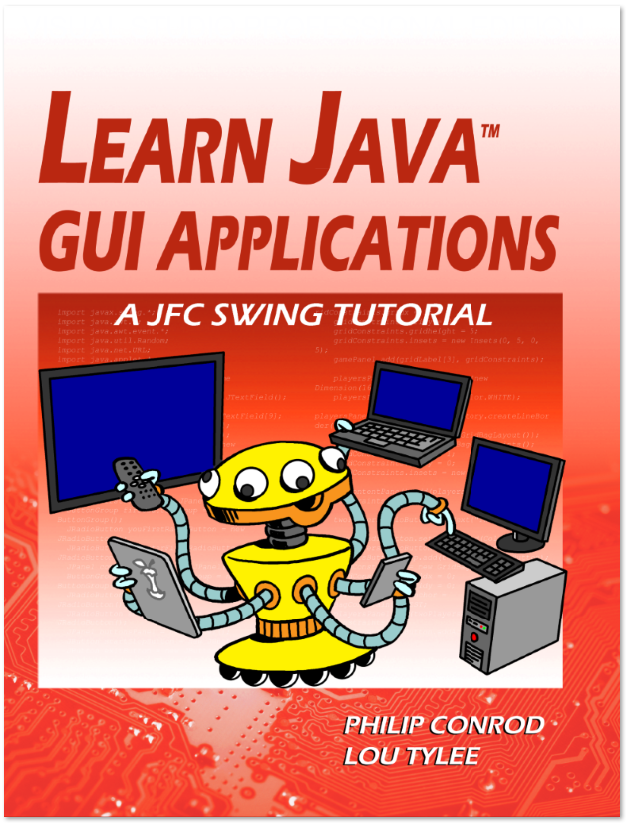 LEARN JAVA TM GUI APPLICATIONS
A JFC SWING TUTORIAL
NEW 8TH EDITION WITH
NETBEANS!
Option #1
(PDF, Mobi, ePub & Word)
 Super Sale Price!
$24.95
LEARN JAVA GUI APPLICATIONS  (Table of Contents) is a self-study tutorial teaching the basics of building a Java application with a swing graphic user interface (GUI).
LEARN JAVA GUI APPLICATIONS has 9 lessons covering object-oriented programming concepts, using a integrated development environment to create and test Java projects, building and distributing GUI applications, understanding and using the Swing control library, exception handling, sequential file access, graphics, multimedia, advanced topics such as printing, and help system authoring.
The focus of LEARN JAVATM GUI APPLICATIONS is to use the existing objects and capabilities of the Java Swing library to build a wide variety of useful desktop applications. Some of the applications built include: Stopwatch, Calendar Display, Loan Repayment Calculator, Flash Card Math Game, Database Input Screen, Statistics Calculator, Tic-Tac-Toe Game, Capital City Quiz, Information Tracker (with plotting), Blackjack, Line, Bar and Pie charts, a version of the first video game ever – Pong, and a Telephone Directory (Project Screen Shots).
LEARN JAVA GUI APPLICATIONS  is presented using a combination of over 1000 color pages of course notes and over 100 practical Java GUI examples and applications. To grasp the concepts presented in LEARN JAVA GUI APPLICATIONS, you should possess a working knowledge of Windows (or other operating system) and have had some exposure to Java programming concepts. We offer a Beginning Java programming tutorials BEGINNING JAVA and that would help you gain this needed exposure.
This course requires Windows 7, 8, MAC OS X or Linux. You also need the ability to view and print documents saved in Microsoft Word format, and Adobe PDF. To complete any of our Java tutorials, you need to have a copy of the 8th Edition of the Java Development Kit (JDK) installed on your computer. This is a FREE product that can be downloaded from the Java website. This site contains complete downloading and installation instructions for the latest version of Java. You can also download all Java documentation from this same site. Look for the Standard Edition of Java (Java SE).
Our new Java tutorials also use the NetBeans IDE version 8 as the IDE (Integrated Development Environment) for building and testing Java applications.
ORDERING AND DELIVERY OPTIONS
This tutorial is available in  a PDF, Mobi, ePub & Word E-Book format.  The entire E-Book and/or selected chapters can be printed on your local printer and/or viewed on your computer screen. The E-Books can be downloaded from our website immediately after purchase. We compress all download files using a .zip format to help reduce the size of files for faster downloading.
We sell this unique E-Book Tutorial in a annually renewable Unlimited User Teacher Edition. Our Teacher Edition allows you to distribute the tutorial and source code to any of the students who attend your computer science class.You can customize and personalize the tutorial and the associated source code to fit your unique teaching style whether the class is self study or instructor led.Since this Tutorial is distributed in an editable Microsoft Word format you can add your own teaching text and/or notes around our teaching text.You can add your own diagrams and/or personalize the E-Book tutorial to fit your specific teaching needs. Unlike other Tutorials that are paper or PDF based, you can modify our teaching narrative and source code inside the tutorial and reprint as needed. This unique flexibility sets us apart from all other tutorials on the market.
LEARN JAVA TM GUI APPLICATIONS – CUSTOMER COMMENTS
"The Learn Java (GUI Applications) For High School Students topics are introduced progressively to ensure that students of different levels can progress at their own pace. Many exercises and problems are weaved into the chapters to maintain student interest and build confidenc​e.  Overall, I appreciated your efforts to make the Java product user friendly."
"I recently bought LEARN JAVA (GUI APPLICATIONS) and am amazed at how simple you make learning Java. I have been studying and teaching Java for three years and could not get anywhere. I was about to give up when I found your product."
​"Thank you so much for the tutorial [LEARN JAVA (GUI APPLICATIONS)]. I think 'brilliant' goes some way to describing it."
"I really enjoy your teaching method in LEARN JAVA (GUI APPLICATIONS). I look forward to continuing with your other products."